Welcome to Lyme Bay Medical & Dental Practices
Lyme Regis Medical Centre, Charmouth Medical Practice & Kent House Health Centre
FLU VACCINES - STILL AVAILABLE IN LYME REGIS AND CHARMOUTH
If you haven't booked or had your flu vaccine this year please contact the Surgery on 01297 443399/445777/560872 to make an appointment as soon as possible. We still have appointments available in Lyme and Charmouth and advise all patients to get a vaccine as soon as possible.
If you are attending the Practices for your vaccination please remember your face mask.
WOODMEAD HALLS COVID CLINIC - 23rd December 2021
Please click on the link below to view the video of the covid clinic held at Woodmead Halls.
We will keep the website updated with details of any future Lyme Regis clinics if planned. If you are due for your booster and would like to book an appointment click on the following link; https://www.nhs.uk/conditions/coronavirus-covid-19/coronavirus-vaccination/coronavirus-booster-vaccine/
If you do not have internet access please phone 119.
e-Consult
e-consult allows patients to safely contact their GP surgery without having to come into the practice. eConsult collects all the details your GP surgery needs to decide on the right care for you and you will receive a response by the end of the next working day.
e-consult is available from 8am Monday until 6.30pm on Friday. When e-consult is unavailable you will still be able to access the self help information.
For more information, please click here or go to our News tab to look at "frequently asked questions" on e-consult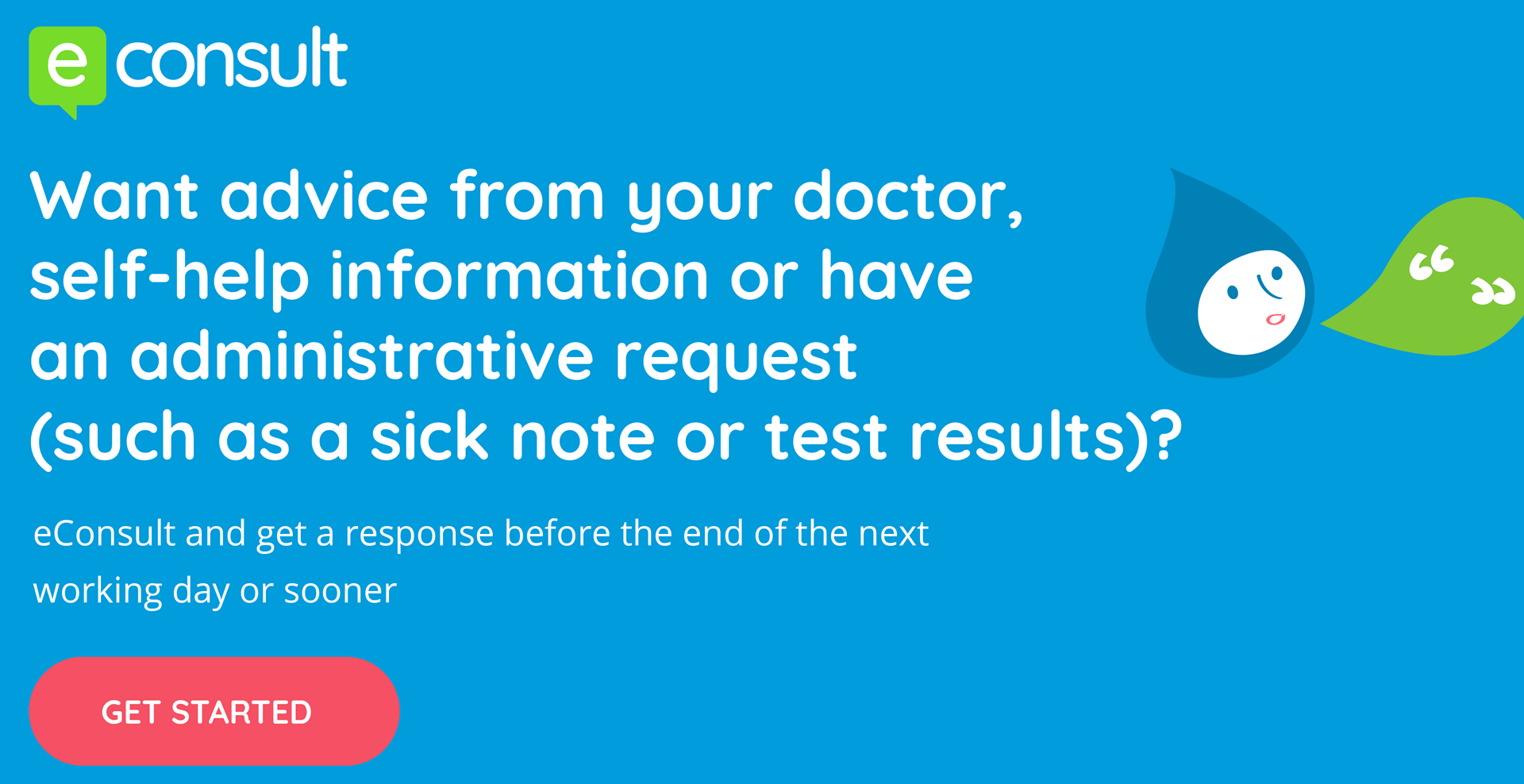 Content
On this page you are able to find further information on the following:
COVID - 19 Vaccination Clinic News
e-Consult
NHS App
Latest News/Information
Opening Times
When We Are Closed
Meet The Team
Friends & Family Test
Join the Patient Participations Group
CQC Report
Link to Facebook
HOW TO ACCESS YOUR COVID-19 VACCINATION STATUS
GP surgery's cannot provide letters showing COVID-19 vaccination status.
You can access your COVID-19 vaccination status through the free NHS App from.

You can access the app through mobile devices such as a smartphone or by tablet. Proof of their COVID-19 vaccination status will be shown within the NHS App.

It is recommend that you register with the app before booking & at least 2 weeks before your departure date and once you have had a full course of vaccinations, which is currently 2 doses of an approved vaccine

If you DO NOT have access to a smartphone and know that the country you are travelling to requires COVID-19 vaccination status, Please call the NHS helpline on 119 and ask for a letter to be posted to your home address. This must be at least 5 days after you have completed the course of the vaccine. They expect the letter to take up to 7 working days to reach them.
To use the NHS App,
Lyme Bay Medical and Dental Practices
Lyme Bay is a friendly practice situated in the coastal towns of Lyme Regis & Charmouth on Dorset's famous and beautiful Jurassic Coast. We offer NHS Medical services across three sites close to the town of Lyme Regis & Charmouth and aim to provide traditional patient centred care to young and old alike.
Our premises at Lyme Regis Medical Centre, Charmouth Medical Practice & Kent House Health Centre offer parking and full disabled access including being sited on main bus routes. Our Practices are part of an integrated community team for the area which provides locally based intermediate care, community nursing, physiotherapy and occupational therapy. We also provide additional physical and mental health services in the form of consultant outpatient clinics and therapy and work closely with our colleagues in West Dorset to deliver as much care as close to home as is safely possible.
We work closely with our patient group and community and aspire to deliver holistic modern care at all times.
Latest News/Information
Please click on the links on the right for further information or latest news
Available:
Lyme Regis Covid Clinic Video - December 2021
Covid Vaccination Clinic 2021
Lymebay & Charmouth Medical Practice Merger 2021
Dental Update January 2021
Video Consultation Audit 2021
Telephone Consultation Audit 2021
e-Consulte-Consult Feedback 2021
Friends and Family Test
Please click here to take the test