Content
On this page you are able to find further information on the following:
Patient Participation Group
Health Champions (On Hold)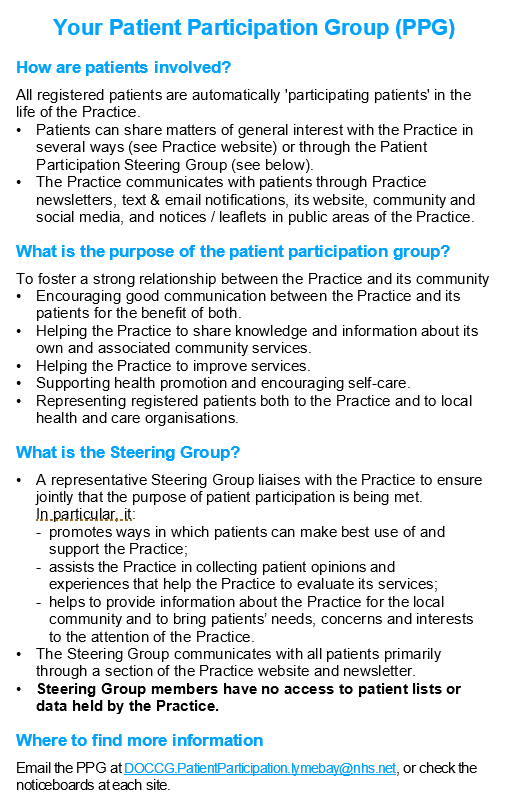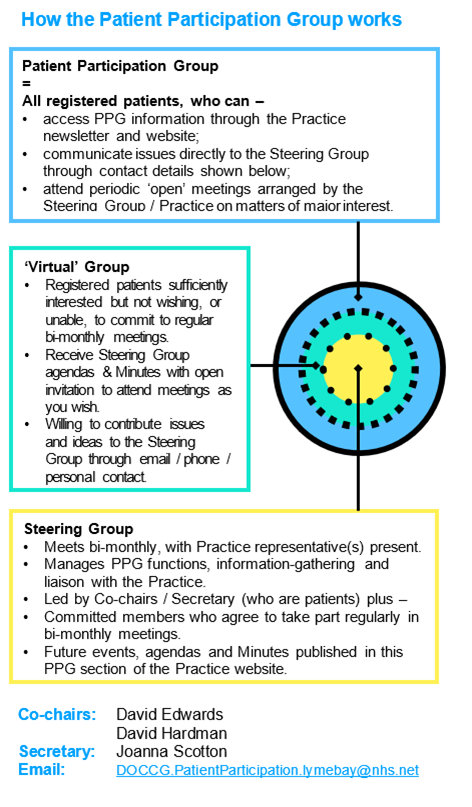 Ways in which you could help the PPG and the Practice
You could:
- volunteer occasionally to help with jobs like stewarding at events (flu vaccinations or large health screening days, for example). Volunteer help for the Practice is coordinated by Caroline Powley. You can contact her by emailing calpowley@me.com
- let the Steering Group know of particular questions or concerns you have about medical services locally if you haven't been able to resolve these directly with the Practice or other service provider.
- contribute your interest and/or expertise to a short-term PPG working group, such as reviewing and advising on Practice communications or on its website.
- join in the voluntary work of the Health Champions (see separate section below).
- offer to become part of the PPG's 'Virtual Group' or Steering Group if this would suit your interests and commitments.
Email the PPG at DOCCG.PatientParticipation.lymebay@nhs.net
Future PPG Meetings
Date Time Place Type of meeting Main topic
2022
Tuesday 19 July 2.30 pm Lyme Regis Football Club Steering Group Social Prescribing
Tuesday 20 Sept 2.30 pm Lyme Regis Football Club Steering Group Prescriptions & Pharmacies/
Youth input to PPGs
Weds 26 Oct 7.00 pm Woodmead Halls Public open meeting Mental health services: young people & adults
Tues 22 Nov 7.00 pm Lyme Regis Football Club AGM open to all The Future of GP Services: Dr Forbes Watson
What are Health Champions?
Health Champions are a volunteer, non-medical service provided by local people for local people, with the aim of working together to make healthier people and communities. Social support and connection is much needed within communities. It can help people to cope with long-term health conditions, to combat loneliness or deal with bereavement, or simply feel more confident and happier. Helping each other to live fuller lives.
Practice Champions welcome the opportunity to help, in the ways we can, to bring people together and connect through shared interests and hobbies. Whether it be a sport, arts & crafts, social get togethers or home visits for a chat ... even bingo, poetry or gardening.